avid Michael Kennedy's work has appeared in most of the top magazines. You might not recall his name, but his strong images will probably stay with you for some time. His riveting portraits capture the essence of his subjects, who have ranged from rock star Bruce Springsteen to such American heroes as Mickey Mantle.

For 18 years, Kennedy worked around the clock as a professional photographer based in New York City. Looking back, he says, he felt that he was spending at least 90 percent of his time on business and only about 10 percent on the creative side of photography. The California native says he headed for New York for a few months and found himself totally caught up in his work there. But he has no regrets.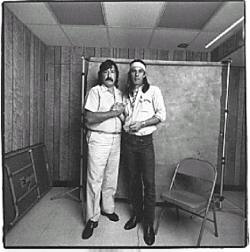 "Working in New York is the best school experience any photographer can get," Kennedy says. He developed his craft and went after the assignments that interested him the most. Besides his work in advertising and portraiture, he began photographing numerous musicians for album covers. His work from this time period garnered him a long string of awards from the publishing and music industries, as well as a healthy dose of choice assignments.
"The only problem was that it got too easy and too predictable. If you're an artist you've got to shake up your brain every once in a while," Kennedy says. So in 1985, he and his wife Lucy took the ultimate camping trip in a Volkswagen van that led them to New Mexico. "I guess you'd say it was cosmic," he says as he rolls his eyes and laughs.
Today his lifestyle and work are very different from those days in New York. Here, he lives in a 100-year-old adobe in Cerrillos, a former mining town south of Santa Fe. While he still takes on commercial assignments, such as photographing Willie Nelson this past July for an album cover, he devotes most of his time to personal photography. He finds his eye drawn to the magical, inviting expanses of the New Mexico landscape and "the wonderful characters that live here."
With his midback-length hair tied back with a headband, the youthful 40-year-old has become one of the wonderful characters who populates Cerrillos. "Hey, I'm no celebrity. I'm one of the guys who goes fishing, hunting and out to cut wood." In his funky adobe filled with a collection of objects from nature, the gentle strains of Native American music are punctuated by the scratchy dispatches of a fire department radio. He explains that someone came asking for money for the local fire department and he said, "Do ya need any help?" And like most of the projects he gets caught up in, he's now a captain of the Turquoise Trail Volunteer Fire Department.
"It's become an important part of my life. When that beeper goes off, you go into a totally different head space. You forget about whatever else you're doing. Suddenly, you're driving really fast and you've got to start to really focus," he says with a long pause. "It's about helping people and that's really important."
About the same time he began to devote more time to fine art pho- tography, he became increasingly interested in the palladium printing process. The method, which dates back to the mid-1800s, remains a difficult and demanding process that renders a beautiful, archival-quality print with rich, warm earth tones.
"I guess I just started doing this to keep me crazy," Kennedy says with a wild-eyed expression. Describing the extremely unstable nature of the process, Kennedy details the day-to-day agony of producing the prints-controlling temperature and static, for example. "Hey, I'm probably one of the only guys in New Mexico who has a dehumidifier." But the very aspects that drive him crazy also produce wonderful, unpredictable results that make each print truly one of a kind.
Kennedy wanders the back roads with a camera in his car waiting for what lies around the next bend. His keen eye has taken him across the street to photograph a neighbor's home he calls "Frank's Place" to the towering boulders at the City of Rocks State Park in southwestern New Mexico.
"It's fun playing with the landscapes," Kennedy says. His playful spirit has just produced a body of new work that includes photographs of barn owls and what he calls "boots and bones." His latest palladium prints will be featured in an exhibition opening Oct. 12 at the Andrew Smith Gallery in Santa Fe. He shows his work there and at the Madrid Supply Co.
"I think it's work that people don't expect from me. But I like surprises and I've found a lot of surprises in New Mexico."