Daytona Beach
BIKE WEEK
The DBCC Gallery of Fine Arts Trecently held its 8th Annual Bike Week Photographic Workshop, led by David Michael Kennedy, renowned for his album cover portraits and editorial photography, and Ed Meyers, noted author, photographer, and former editor of Popular Photography.

Each Year Bike Week attracts thousands of characters who converge upon "The World's Most Famous Beach" for a time of races, adventure and frolic. The 200,000 folks who take part in the annual gathering have one thing in common - their fascination, attraction and love of motorcycles. They come to Daytona Beach to experience a multitude of races, shows, exhibits, street attractions and social gatherings that happen non-stop throughout the week.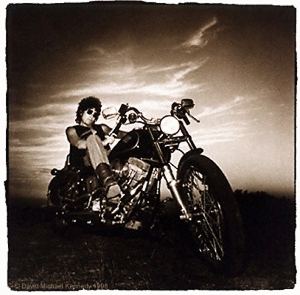 For the past eight years, leading photojournalists, artists, and videographers, have participated in DBCC's Bike Week Photographic Workshop. Previous workshop leaders include Eddie Adams, William Albert Allard, Ben Fernandez, Charles Gaiewood, Bill Jay, Sylvia Plachy, Eli Reed, Burk Uzzle, Eric Breitenbach, Owen Butler, Mark Haven, Joe Kelleher, Keith McMannus, Gary Monroe, Jim Megargee, and Willie Osterman.
This year, Kennedy and Meyers gave students "real-world" assignments in editorial and advertising photography, based, of course, upon the theme of Bike Week. A segment of the workshop was dedicated to exploring editorial portraiture - Kennedy's forte. Although Kennedy attracts a wide variety of accounts in music, editorial and advertising, he is continually attracted to portraiture. Throughout the week, he showed his special ability to make the subject feel special and at home. "To me, that is the magic," he said. Kennedy's editorial photographs have been published in New York, Omni, Time, Penthouse, Rolling Stone, among others.
"All my editorial accounts are my favorites, because I get to read the article and I get creative freedom," he said. Kennedy's myriad of subjects include Bob Dylan, Michael Jackson, Bruce Springsteen, Isaac Stern, Mickey Mantle, and Muddy Waters. His advertising accounts include Crest Toothpaste, Gaines Puppy Chow, CBS News, Chemical Banks, the National Guard, and NATO.
Kennedy imbues his commercial work with both ardent passion and intelligence. His work is suitable to grace the pages of a magazine or the walls of a gallery. "I don't try to draw a line between my personal work and my commercial work," Kennedy confides. "It seems to me that the commercial work gets so involved, and takes so much out of you, that it would be very difficult for me to 'work' all day and then never take pictures for myself. I really want to keep the two much closer together. It's nice to go out on jobs feeling that they are not just for money, not simpy fulfilling an art director's needs."
Ed Meyers, a published writer/ photographer for 30 years, played a dual role during the week, as a workshop leader, and as a photojournalist on assignment. Students were given invaluable insights as they observed Meyers at work recording his impressions of Bike Week. He presented an informative seminar on the profession of photography and shared his extensive experience as a commercial photographer. He has held accounts with corporations, such as IBM, Borden, and Singer. His photographs have been published in Archaeology, The New York Times, The Christian Science Monitor, Holiday, Modern Photography, Photography Annual, and other periodicals. In 1986, he received the New York Art Director's Club Gold Award for a story he wrote in Popular Photography.
Plans are underway to mount a traveling exhibition of photographs produced by workshop leaders during previous Photographic Workshops.