Portrait Workshop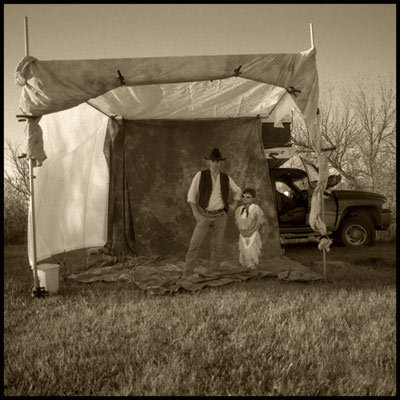 I have been living in New Mexico since 1986, when I left my commercial career in New York City. Since then I have extensively explored the Landscape, People and Spirit of the Southwest. Over the years I have gained access to locations and Cultures that are closed to outsiders. This then, becomes one of the truly important aspects of this workshop. We will go places, meet people and have experiences that would otherwise be closed to you.
Portraiture has always fascinated me. Be it working with Bob Dylan, Debbie Harry (Blondie), Bruce Springsteen or Gilbert Porcupine, Sister Reddie Harper, JR Hilton, I am always amazed what there is to discover as you peel away the layers and masks we present to the world until finally we find some essence of the true Spirit of the person we are photographing and are able to share it through our photographs.
This workshop is about discovery of the Human Spirit. I will work with you to explore new ways for you to approach and interrelate with people to allow you to quickly get past the bullshit and begin to make photographs that move beyond the obvious and allow you to begin to explore and photograph the Spirit each person holds close. In this way your Portraits will begin to take on a new dimensionality. I believe that true Portraits are not about the physical bodies that define us but about that Spirit that lies just beyond the eyes. As you begin to understand how to access and then photograph that Spirit you begin to approach True Portraiture.
The workshop is custom designed to fit your specific needs, both technically and artistically. Aspects we will cover range from working with both artificial and natural light to Environmental and Studio Portraits. The workshop is five full days photographing the People of the Southwest.
We can use my home in El Rito, as a base and work with Local People or hit the road in the camper and travel the Southwest. I can arrange subjects along the way or run interference for you with the folks we meet. If we travel, accommodations are simple-inexpensive roadside motels, the camper or sleeping under the stars. We travel in a 1998 Dodge 2500 diesel 4x4 quad cab pickup truck with a full camper that has two beds a full kitchen and bathroom yet is small enough that we can go anywhere. The truck is also equipped with a great daylight studio". The "look" of the truck and camper is one of "local color" right down to the fire and rescue license plates. We blend into the environment and travel thru time and space as if we have always been there. The destinations can be yours, if you have specific peoples you want to photograph or discovery trips where we just travel down the road and explore each new person we meet.
Film of David Michael Kennedy By Richard Newman's Video Boot Camp class
at the Santa Fe Photographic Workshop
The thrust of each workshop will be a one on one experience that allows you 5 days, of pure photography.
I spent two years living and traveling America (70,000 miles) in a vintage Airstream Trailer. As I would travel down the back roads I would stop when I saw interesting folks, be it in a public setting or in their yards, and approach them to make a Portrait. In the two years I did well over 1,000 Portraits and only had one person refuse to allow me to make their Portrait. I had many home cooked meals and invitations to all kinds of events I would never of found if I had not stopped and made that Portrait. With the right attitude anything is possible and the answer to the unasked question is always NO!

The tuition is $5,000.00 plus tax. Also It is a good idea to budget some money for the folks you photograph. I would recommend $20.00 to $100.00 per person. Many times it is not necessary but a kind gesture.

I will pick you up from the Airport and return you to the airport at the end of the workshop.