June 6, 2005
Hotel Le Regina
Warsaw Poland
After 24 hours of airplanes, airports, customs and lost baggage we arrive in Warsaw. Wonderful City and People. Marta, our guide is fantastic! Thomaz is wild and crazy running double-time to finalize the show and all the press. The hotel is fabulous a small old world first class place to hang your head. First class is nice after 18 months of trailer life. From time to time things change……….
Have spent the last few days decompressing and giving interviews. Seems Thomas has attracted the attention of the press and we have interviews scheduled with every major and minor TV station, radio station, magazine and newspaper in Warsaw. Have a crazy schedule with as many as four interviews a day.
Not much time to see the city but what we've seen is fantastic! Small cobblestone streets and a great mixture of old and new architecture. It was totally destroyed during the war but the Polish People have rebuilt the city keeping a good deal of the old world feeling. There is a good feeling here and we are meeting fantastic people Very bizarre how the soft older building blend into the sharp angles of the new chrome and steel.
Had a huge surprise as we drove in from the airport, there was a huge billboard of Iggy Pop announcing the show. It seems Thomaz has created 50 billboards and 50 bus stop posters to announce the show. Heather and I find ourselves searching them out as we travel through the city. Thomaz has a list of the locations and we hope to find them all. Feels like a contest to find them as we zoom about in these little toy cars.
Dinner last night with Tomek Sikora and his wife Matgosia. Tomek is a very fine Polish photographer and I very much like his work. They have a warm friendly loft in Warsaw as well as spending half the year in Australia.

A sleepy Heather with our first room service "breaky"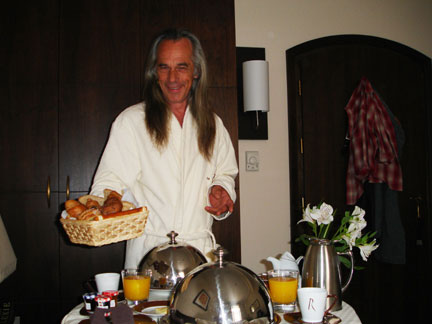 Service with a smile

Heather and our savior Marta at her old flat in Warsaw

self portrait of Tomek and Matgosia by Tomek (of course it's a self portrait)