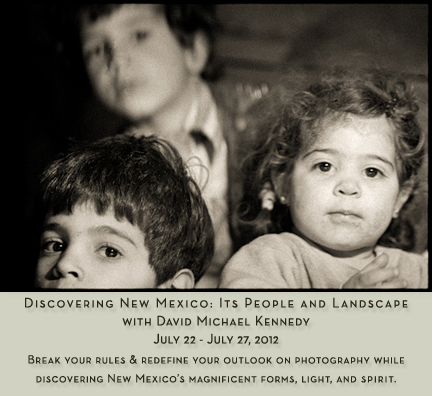 The dynamic high desert is a magnet for artists eager to record its magnificent forms and light. Motivated by the unique spirit that courses through every aspect of New Mexico, this workshop is for photographers who want to push beyond their current vision, explore photography in new and challenging ways, gain insight into non-traditional methods of working and seeing, and discover creative modes of expanding their personal vision.
The week offers classroom time with David that includes a diverse blend of discussions, assignments, critiques and one-on-one sessions. In addition, there are two full-day field trips dedicated to traveling as a group to wild and wonderful locations in Northern New Mexico.
On field trips down back roads, we pursue the elusive magic that lies beyond the obvious. Because of the mercurial nature of New Mexico's weather, David prefers to "chase the light" rather than plan a definite itinerary. We're given special access to photograph some of the locals David has come to know in his 26 years in Northern New Mexico, finding paths into our subjects' spirits that allow them to relax, feel safe, and trust us enough to give the gift of a true and honest image.
Plan on long days and nights of work. This is an intense workshop where David encourages you to break all your rules and redefine your outlook on photography—and perhaps your life.
David Michael Kennedy attended Brooks Institute in Santa Barbara, where he acquired the technical mastery that allows him to give his intuition free reign. A master of the palladium/platinum printing process, he spent 18 years in New York City photographing portraits of celebrities (including as Bob Dylan, Mike Tyson, Rachel Rosenthal, Debby Harry, and Isaac Stern) and creating award-winning album covers for major record labels. His work has appeared in magazines such as New York, Omni, Rolling Stone, Spin, Time, and Working Woman. Currently, he devotes most of his time to fine-art photography. This is his 12th year teaching at The Workshops. His web site is www.davidmichaelkennedy.com.
WHO SHOULD ATTEND: Amateurs and Advanced Amateurs
WHAT YOU SHOULD KNOW: Working knowledge of digital workflow and manual mode on your digital SLR camera
TUITION: $1,175    FEES: $190 Model and Location
Contat Santa Fe Workshops for sign up an more information